How to Do Links Building for SEO
What are backlinks? How to get backlinks in 2019?
Think of backlinks as money. The more you have, the more successful you become in real-life. Similarly, Google considers backlinks an important factor in ranking websites online.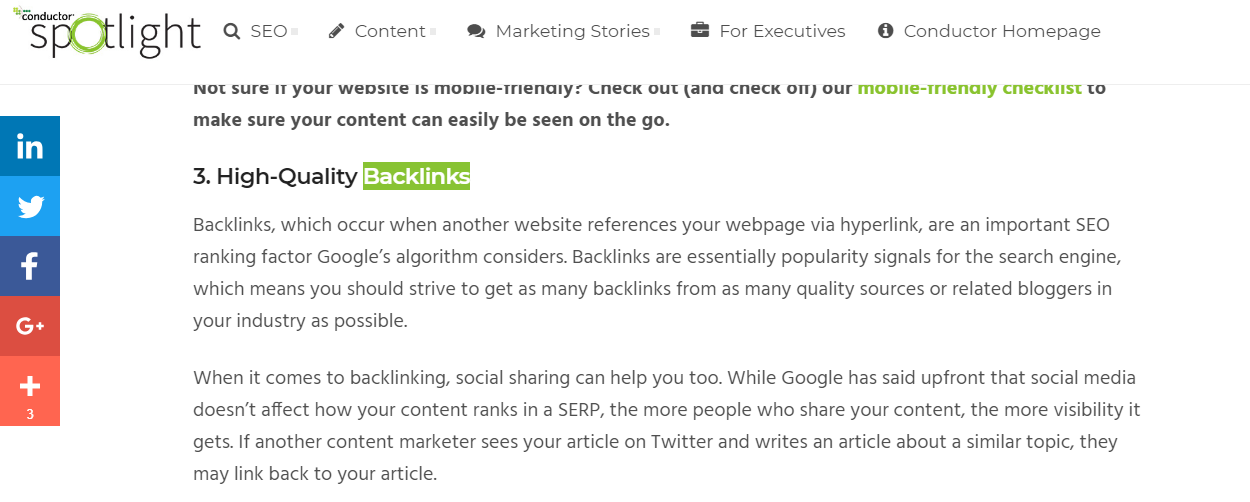 Source: Conductor Spotlight
If you want to know 'How to create backlinks for seo' Google says in its guideline that people should be careful who they link to, because they are passing their link juice or site authority. Read this para from Official Google Guide for Beginner SEOs.
"For example, imagine that you're writing a blog post on the topic of comment-spamming and you want to call out a site that recently comment-spammed your blog. You want to warn others of the site, so you include the link to it in your content; however, you certainly don't want to give the site some of your reputation from your link. This would be a good time to use no-follow."
What does this SEO guide tell us? It means the more quality links you have the higher your website will rank.
I personally prefer numbers to know the power of any factor. And, that's what I am going to do here.
Statistics about Link Building Strategies in 2019
One quality backlink is better than 10 low-quality links
Multiple links coming from the same domain are counted as one (Source)
Websites with more unique referring domains (links from more sites) tend to rank higher in search engines (Source)
Google's ranking is closely tied to overall page authority
Social media shares also help a great deal in higher rankings (Source)
Ranking higher in Google searches without any external backlink is possible (Source)
What you will learn: Best link building strategies 2019
How to create backlinks that actually make a difference in rankings
Types of backlinks and why they exist
Best link building tactics that you may not have tried before
Why people get penalties from Google after creating links
Link building checklist to make links on trusted websites
Types of Backlinks

First in our list is backlink types that exist.
do-follow: Links that pass a link juice or authority to your website
no-follow: Links that don't pass any juice to your website. They are just placed to let the users know about a resource.
Both of these are necessary to make your website more popular on the web. But many people often get confused about the ratio of do-follow and no-follow links. So, what should you do?
The answer is in the picture: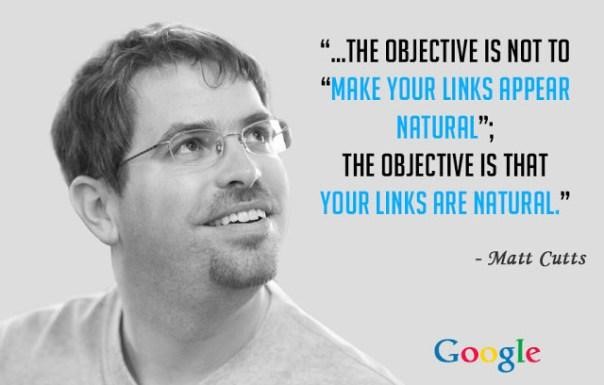 So, don't focus on the link building ratio. Instead just focus on writing quality content and acquiring more links from different websites.
Many SEO specialists, however, don't agree. For them, there must be some ratio of NF and DF. This helps them actually work on increasing backlinks. My recommendation to them is to focus on quality over quantity. This way, even if they are getting 50 NF and 50 DF, they will still see a rise in rankings. This also means that they shouldn't worry.
A question: How to create backlinks manually?
Manual Outreach Link Building Checklist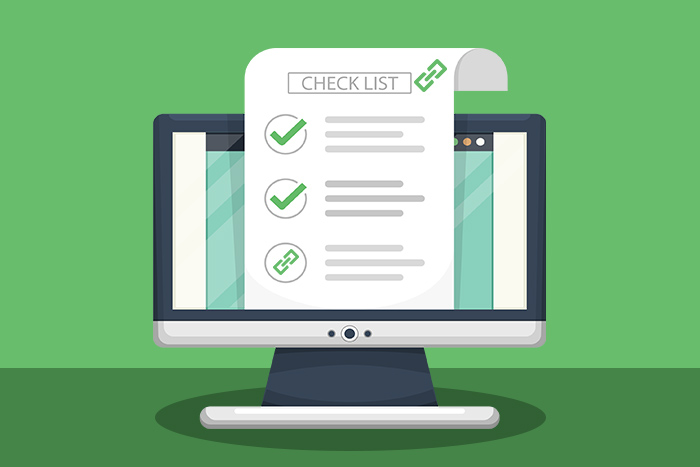 For most SEO beginners, the biggest worry is getting penalized by Google. Most cases have been reported online in which users have said that they have received links from a spam website and they think they will be penalized for it. What should they do in such a situation?
Will You Get penalized if you receive a Link from Spam Website?
No. Google is now way smarter and can easily realize if someone has sent traffic to your website as part of negative SEO or if you are seriously engaged in spam business. But you will have to take necessary measures accordingly. In most cases, Google simply asks you to remove spam backlinks from your website.
You can do that by going to Google Search Console and creating a 'disavow' file by adding all spam websites in it. This way Google won't count spam websites while counting your links.
Let's see what things you should check while link building.
Domain Authority
Domain Authority (DA) means the authority of a domain on the internet. It is a Moz ranking factor and depends on many aspects including the quality of content on the website, its links, its mentions online, and the number of keywords it is ranking for. A website with DA 30 or more is considered a trusted resource.
Spam Score
Next, we have Spam Score. This is another Moz ranking factor. It indicates chances of Google penalty. If a website has a spam score of more than two, simply avoid getting links from it.
Trust Flow and Citation Flow
Trust Flow and Citation Flow are two factors by Majestic SEO. They indicate the influence a website has online. Citation flow is counted by the number of links a website has. While Trust flow indicates the quality of those links.
Domain Age
Domain age indicates the age of a website or the amount of time a website has existed on the web. Usually, a website that's older than two years is considered for link building.
Traffic
Another factor that you need to keep in mind during outreach is to find websites that have at least 1000 visitors per day. You can find the estimated traffic of any website by using Similar Web.
How to build quality backlinks? – Tactics That Work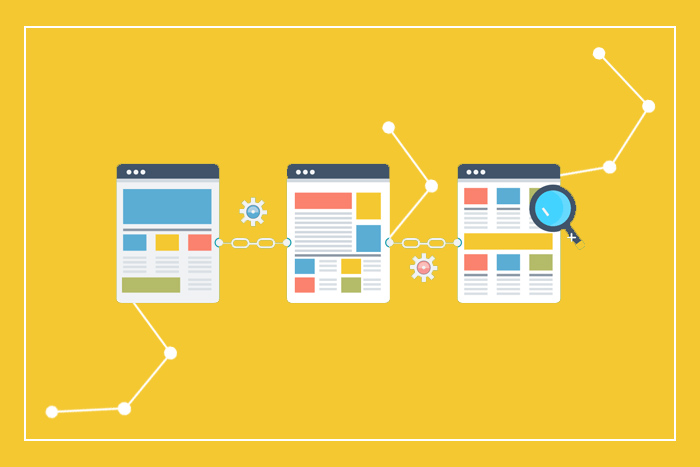 With that said, let's learn about some of the best Backlink tactics that work in 2019.
Steal Competitor Backlinks
One of the best ways to rank higher for keywords of your choice is by analyzing competitors in the niche. For example, I have a website or I intend to create a website on home gym equipment. So, my keywords are 'home gym equipment' and many others. For now, I will consider this one as the primary keyword.
With that said, now I will search for backlinks that other similar websites have created.
How to find competitor websites?
You can use any tool like KwFinder, Ahref, or Moz to find competitor websites. But the best way is to search the keyword in Google.
Before doing that, download and install SEO quake plugin.
Now search for the keyword and you will see a list. You should check if any website is ranking on the first page without more than 10 backlinks. Note them down and visit them one by one. Once you have at least 10 websites, you can check out their backlinks.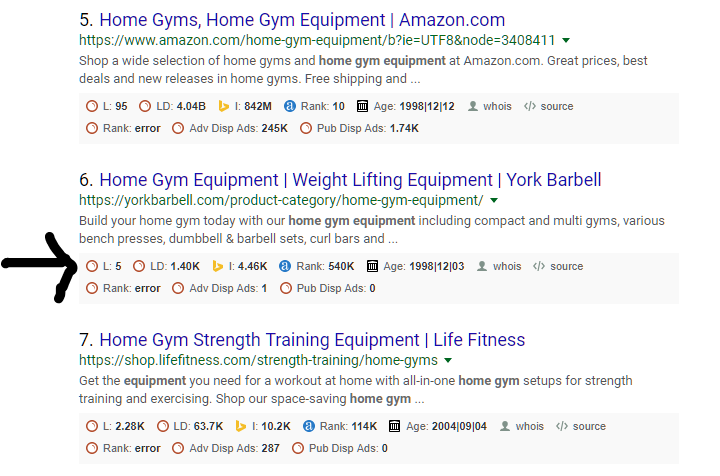 Next, for Link building techniques 2019, we will check their backlinks by some free tools. You can also use paid tools for this purpose.
I will be using Backlink Watch to search for relevant backlinks pointing to this website in order to know 'How to get more backlinks in 2019.'
Once you have a complete list, copy and paste it into excel. Now manually visit each one and check if you can create a link for your website on these websites.
This way you will have almost the same links as that of the competition. Now, these may not be enough to rank you higher in searches, but your website now has some weight. This is one of the best link building techniques in 2019.
Create Infographics
Next, we have infographics. Infographics are one way to rank your website higher in search engines. They are great if you want to get quality links from multiple high DA websites, provided you offer quality in these infographics as well.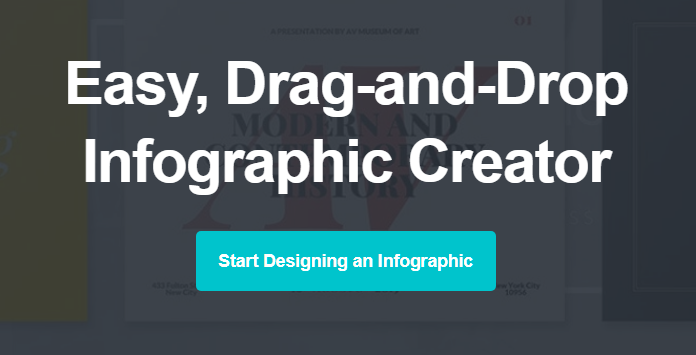 Key points:
Create infographics on trending topics
Create these infographics on Canva, Piktochart and other infographic websites
Submit infographics in submission directories to get backlinks. Here is one resource for finding quality infographic submission sites.